〈상담소〉는 사주포차, 오래된 약국 2021, 오행백신센터, 본능미용실, 라 로바의 방-부활, 오늘의 말씀 등 작가들이 만든 6개의 상담소를 중심으로 구성된다. 관객은 자신의 무의식을 들여다보고 인생을 상담하는 과정을 통해 스스로 운을 시험해 보기도 하고, 타인과 자신의 운을 교환하기도 하면서 적극적으로 운명에 맞서는 경험을 한다. 각각의 상담소에서는 예술적 도구로 재발견된 사주, 타로, 연금술, 뇌스캔, 고민 상담, 가상 종교로 상담이 이루어진다. 미술관 곳곳에 설치된 '행운 교환소'에서는 관객 간의 거래를 통해 행운을 강화시키는 교환 게임이 진행된다.
* <상담소>에 매달 특별 게스트를 초청하여 강연과 워크숍을 열고 관람객의 고민을 상담해 주는 이벤트를 마련한다.
– 특별 게스트: 퀴어무당 홍칼리, 타로 상담가 바람의 머리카락, 인문사주 명리학자 오광탁
Counseling Tables consists of six parts: SaJu-fortune telling, Ancient Pharmacy 2021, TFEVC(The five Elements Vaccine Center), Instinct Beauty Shop, Today's Message. Visitors can try their luck or exchange it with others and actively confront their destiny as they look into their unconsciousness and get counselings about matters in their lives. In each part, the artist will practice their counseling sessions based on artistically reinterpreted practices such as Four Pillars of Destiny, tarot cartomancy, alchemy, brain scanning, counseling worries, and imaginary religion. The game of exchanging luck, which reinforces one's good luck through exchanging them with other visitors, is available at <Fortune Exchange> throughout the museum.
Every month at 〈Counseling Tables〉, we will invite special guests for lectures, workshops, and free counseling sessions.
– Participating guests are Queer Shaman Kali Hong, The tarot master Breezy Strands, Saju scholar Oh Gwang Tak.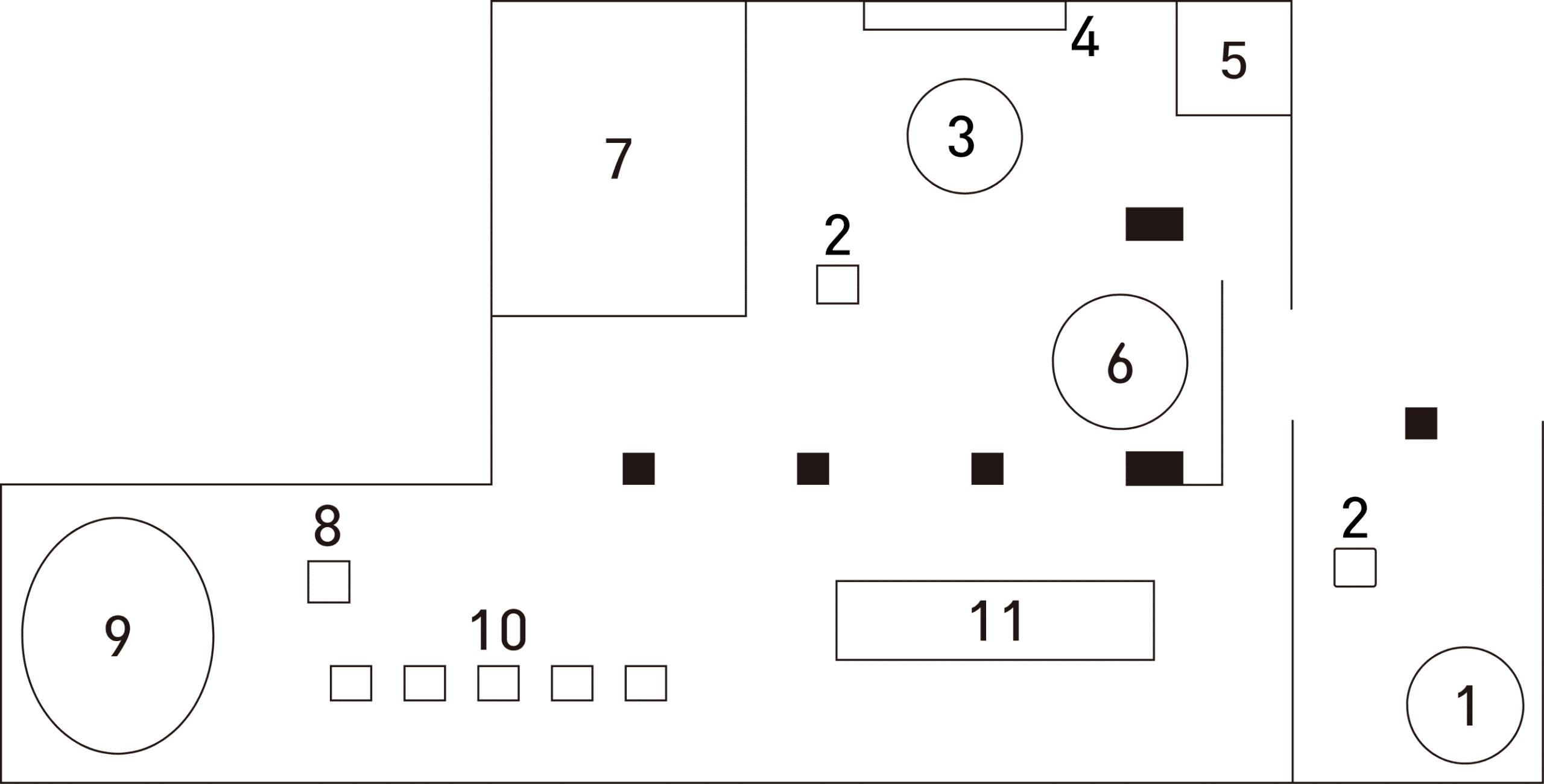 김정모 Mo Kim
<행운교환소>, 복합재료, 가변크기, 2021
<Fortune Exchange>, mixed media, dimensions variable, 2021
상담소 인포데스크 Counseling Tables Information Desk
송인옥 SONG IN OK
<보이는 것, 보이지 않는 것>, 캔버스에 아크릴, 각 40x40cm, 2020-2021
<The Visible, The Invisible>, acrylic on canvas, each 40x40cm, 2020-2021
송지형 Ji hyung Song
<사주포차>, 관객참여형 퍼포먼스, 복합재료, 200x200x250cm, 2021
<당신의 운명을 알고 싶습니까>, 단채널 비디오, 사운드, 18' 58'', 2021
<SaJu – Fortune telling>, participatory performance, mixed media, 200x200x250cm, 2021
<Do You Want to Know Your Destiny>, Single channel video, sound, 18' 58'', 2021
비디오로즈(강현우,허철주) VideoRose(Kang Hyun Woo, Heo cheol joo)
<라 로바의 방-부활>, 웹아트(laloba-revival.com), 복합재료, 가변크기, 2021
<Room of La Loba-Revival>, web art(laloba-revival.com), mixed media, dimensions variable, 2021
노말리티(feat.두이) Normality(Hyesoo Park, 성유미Yumi Sung, Dooee)
<오래된 약국 2021>, 복합재료, 가변크기, 2021
<Ancient Pharmacy 2021>, mixed media, dimensions variable, 2021
김수환×백인태 Kim, Soohwan, Beck, Intae​
<오늘의 말씀>, 복합재료, 65x65x90cm, 2021
<Today's message>, mixed media, 65x65x90cm, 2021
곽은정×김수환×박가인×최장원 Eunjeong Kwak, Kim, Soohwan, Bahc Gaain, Choi Jangwon
<2021년형 네오 신당>, 복합재료, 가변크기, 2021
– 곽은정 <불심을 높여주는 불상 메이크업>, 복합재료, 가변크기, 2021
– 김수환 <우리는>, 디지털프린팅, 가변크기, 2019
– 박가인 <밀레니얼 신당>, 복합재료, 가변크기, 2021
– 최장원 <색경발원>, 복합재료, 가변크기, 2021
<Neo Shrine 2021 ver.>, mixed media, dimensions variable, 2021
– Eunjeong Kwak <Buddha Makeup for Buddha-mind>, mixed media, dimension variable 2021
– Kim, Soohwan <We are>, digital printing, dimensions variable, 2019
– Bahc Gaain <Millennial Shrine>, mixed media, dimension variable 2021
– Choi Jangwon <Vow of Sights>, mixed media, dimension variable 2021
정윤선 Yunsun Jung
<오행백신센터>, 복합재료, 가변크기, 2021
<TFEVC(The five Elements Vaccine Center)>, mixed media, dimensions variable, 2021

홍학순 Hong Hak-soon
<본능미용실>, 복합재료, 가변크기, 2021
<Instinct Beauty Shop>, mixed media, dimensions variable, 2021